This academic year we will be running a combination of in person and virtual events. You will need to pre-register for these events, and pre-registration will be opening soon! Check back for more information and to book on to one of our events. You can register for as many events as you like, and will have the option to sign up for reminders about our events.
---
When will our Open Events be?
We have 5 planned events, one of which will be virtual so can be attended from home. You will be able to come in and see the campus, talk to tutors about your options, find out more about our facilities and learn about the support we have on offer for our students. 
Wednesday 13th October 2021, 4-7pm (Both Campuses)

Wednesday 1st December 2021, 4-7pm (Both Campuses)

Wednesday 2nd February 2022, 1-4pm (Virtual)

Saturday 12th February 2022, 10am - 1pm (Both Campuses)

Wednesday 16th February - Apprenticeship Open Event - 1-7pm

Wednesday 4th May 2022, 4-7pm (Both Campuses)
---
Pre-registration for our February Events is now open!
Pre-registration for our February events is now open! We have two events running in Feb, a Virtual Open Day running on Wednesday 2nd February, and a regular Open Day on Saturday 12th February. You can register for one or both of these events using the buttons below. We will release information about these events closer to the time via email, and will also add more information to the page as it becomes available. 
Virtual Open Event Information
On Wednesday 2nd February we will be running a Virtual Open Event, this will be structured as a series of Zoom talks/Q&A's on different aspects of College life. There is no need to book on to these calls, you can access all of them via the links we send out on the day, or via this page. All the Zooms will be recorded and uploaded to our website, so if you can't attend the one you want, don't worry! You can catch up on it at a time to suit you. We have put together a schedule (below), which you can use to plan your attendance, and use that registration button above to sign up to the event and we will email you the links on the day of the event!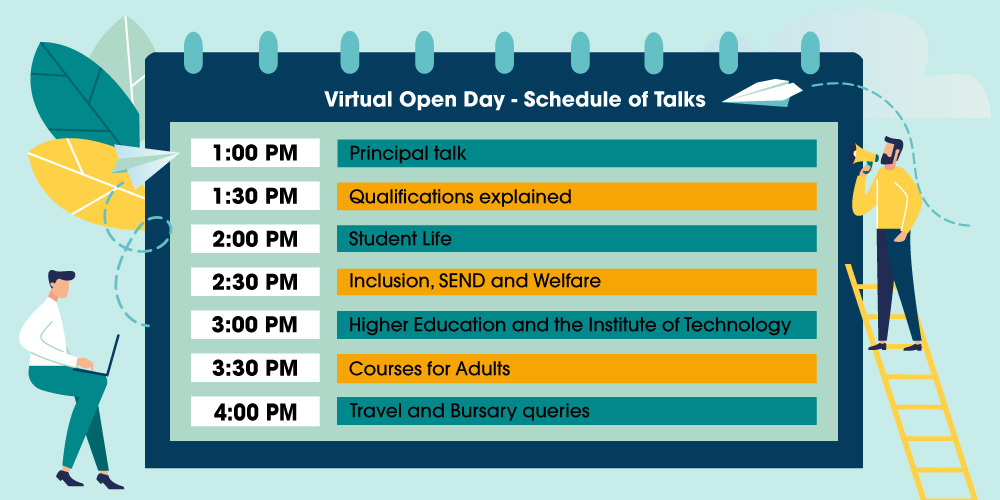 ---
More Information
For more information about our courses, you can get in contact with our Student Advice Team via phone or email.