Bath Rugby Elite Women's Rugby Academy is a rugby and education programme in partnership with Bath Rugby Club and Bath College, focused on offering 16-19 year old females an opportunity to unlock their full potential on and off the pitch.  This partnership provides a key milestone for Bath Rugby's pledge and commitment to female rugby, with the academy becoming a key component in the elite women's pathway culminating in supporting Bath Rugby's application to the Allianz Premier 15s. The Bath Rugby Women's Academy is the beginning of a long-term partnership with Bath College, with both parties looking to not only create a best-in-class Academy but also facilitate the growth of female rugby throughout the local region. 
Bath Rugby has undertaken extensive research to understand the true state of play of the women and girls' game throughout the region.  The club identified barriers to participation including lack of fixtures and a clear pathway, as well as limited coaching availability and provision across schools in the region.  The aim of the academy will be to offer a clear pathway and development opportunities to the best young talent in the region.  Bath Rugby's Rugby Development Lead Maria Crowfoot will oversee the coaching aspect of this course and is a RFU Level 3 qualified coach who is currently Head Coach of the University of Bath Women's Team.  After two years of study, students will have been supported to achieve excellence in their academic studies which will give them the option to progress into a range of career and Higher Education opportunities.

---
How is the Elite Women's programme structured?
The Elite Women's programme is broken down in to two main parts, physical programming, aimed at improvement in gameplay, and an academic pathway designed to give you the right qualifications to progress and succeed.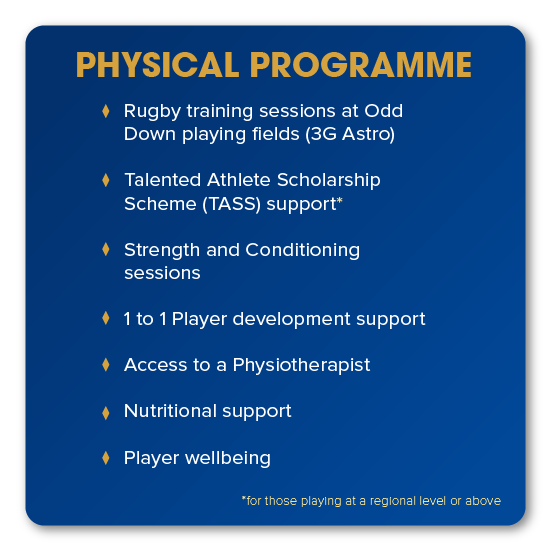 Interested in applying?
To find out more and apply click the button below to access our course page. On this page you can find out the finer details about the course, such as entry requirements, additional costs, how you can expect your week to look as a student, and how we measure success. You can also apply from that page using our application button, this form takes about 10-15 minutes to fill in, you can speed up the application process by ensuring you have your predicated grades to hand. If you still have questions, you can get in contact with our friendly student advice team using the phone and email buttons below.

Join our Open training session on Wednesday 12th April, at Farleigh House. The day will run from 12:30pm to 15:15pm, with a training session, strength and conditioning session and a Q&A where you can ask questions about the course and the Academy. To book on to our Open training session, use the registration button below.